In a climate where businesses are struggling to attract and retain top talent, making work mean more gives current and prospective employees more reasons than ever to commit to you for the long term. It also encourages them to show up each day with passion and purpose, and to pursue ongoing training in order to grow and excel in their field.
In addition, the current social isolation resulting from the pandemic has obliterated office occupancy, and drastically changed what work looks like, how it's lived each day, and what it means. Hybrid work is the new work model, and every business will need to embrace it to remain competitive. Inspiring all employees (including those who are remote) to be more productive and to remain connected to your organization's purpose is crucial for growth. Helping employees stay motivated with recognition, incentives, rewards, wellness gamification and more, are now business-critical.
Transforming Work Into Purpose
Imagine if your employees all shared the same passion, focus, and urgency that you do for success and growth. Creating that level of engagement is an emotional task that involves recognition, rewards, wellness, and the transformation of work into purpose.
At CarltonOne, we believe companies thrive by making work mean more, by working smarter not harder and inspiring their employees to help change the world.
That's why we've helped the world's smartest companies grow by nurturing and engaging the talent of their human capital. We intentionally build talent technology that makes work more meaningful, and all of our solutions fuel our one mission of creating climate change eco-action. Now, we're already well on our way to planting 100 million trees every year.
Get Results In Your Business
With the 10 tips below, you'll get ideas you can immediately start using to raise the trajectory of your business and create a productive and passionate work climate.
Tip #1: Grow a Positive Company Culture
Culture is the invisible conscience that guides behavior, style and decisions. It's the active articulation of your brand in your workplace. It's your company's ultimate 'soft skill.' The best corporate cultures become powerful competitive weapons when every employee breathes it and believes it.
Growing a winning company culture begins with clearly articulating the company culture you want to create. Zappos, the groundbreaking online shoe store, does it by defining 10 core values - like 'Create Fun and A Little Weirdness','Deliver WOW Through Service' and 'Be Humble'. The trick here is to align your company culture with your actual business. Weird won't work selling headstones.
Tip #2: Understand the Psychology of Employee Engagement
What motivates you? Ask a hundred employees and you'll receive a hundred different answers. As emotional beings, the things that motivate us to choose a certain employer and then show up and really commit to giving that job our all are as diverse as any other deeply personal human decision.
Although our laundry list of motivators will change from person to person (and even month to month) they can be summarized with one word: engagement.
Engagement describes an emotional state of commitment, enthusiasm and desire to create success. As an employer, it's simply the most valuable superpower you can foster in your employees, and is the psychological X-factor that determines which companies will soar and which will sink.
In fact, innovation, growth, productivity, and brand are all vitally linked to employee engagement.
Engaged employees deliver. They create success. They prove that their emotional commitment to your organization translates into real-world results. And the more their colleagues see this, the more engaged they will themselves become.
The viral effectiveness of engagement is demonstrated most dramatically in a winning sports team, where star players inspire and spread their enthusiasm through the ranks, elevating the entire team to higher levels of performance.
Tip #3: Mix Things Up to Keep Your People Inspired
Biologically, our brains are hardwired to notice and react to differences, and to zone out predictable occurrences. Elevator dings, coffeepot gurgling, co-worker phone calls....all literally fade into the background of our attention. Approaching sabre-tooth tiger? That jolts your full attention. Responding to novelty is a survival instinct, and without it, life can become a forgettable blur.
Here's where things get complicated: Many companies work hard to create repeatable processes and systems to maximize productivity, consistency and quality.
One of the downsides of this (eventually) meaningless sense of predictability can be employee boredom. Following the same routine day after day, quarter after quarter, can numb even the most engaged team member, reducing creativity, innovation and enthusiasm.
Some small, quick changes might include scheduling a recurring meeting for a new time or day, holding meetings in a different place, banning PPT for a week and encouraging creative presentation methods.
Long term, nothing busts boredom like doing a job that you love and receiving opportunities to stretch your wings. If you can match your employee's interests and preferences with elements of their position, then you'll help foster more engagement. And if you can extend opportunities to learn, grow, try new things, and allow your employees to expand, they're much more likely to stay engaged, creative, and passionate.
Tip #4: Align Your Teams Around a Common WHY
Alignment is another way of describing how synchronized your employees are with your wider company goals. Is everyone moving in the same direction? Does each employee share your vision? Are they all working with the same purpose?
When an employee is unmotivated, they don't produce as much - meaning a lack of
alignment can have a significant impact on your bottom line. In fact, companies that have
high employee engagement were found to be 21% more profitable in a survey by Gallup.
With many employees now working from home, or isolated at the office, companies are realizing now, more than ever, that keeping everyone aligned is crucial to performance and growth.
Alignment can help employees who may feel adrift in these uncertain times, especially if that alignment connects them to both their own purpose, and the larger purpose of the company. Alignment is essential for your employees' sense of self-worth and personal success. They will only feel successful if they know they are making a difference —
not just making a living. Also, when you help your team feel more aligned with their work, you're also aligning their performance with your growth trajectory. A win-win for everyone!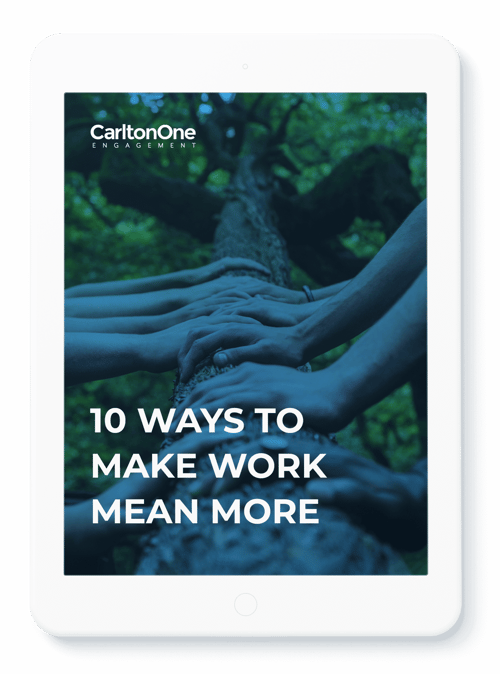 10 Powerful Ways To Make Work Mean More
Ready to give current and prospective employees more reasons than ever to commit to you for the long term? Save a copy of your complimentary guide to making work mean more.
Tip #5: Use Social Recognition to Boost Engagement
We all love it when our hard work is recognized and appreciated. But the power of those positive vibes can be multiplied when we are also recognized socially, in front of our peers. In addition, as companies grow and add more employees, teams, layers and offices, employees can sometimes feel as if only their direct managers or team members can see the good work they do. Upper management, remote teams and executives can seem very far away.
How to bridge the gap? One way is to get social by utilizing an internal reward system.
When you start discussing who's earned rewards (and why) on your company intranet or social media platforms, it gives the whole organization a chance to see what excellent work your employees are doing, helping them feel like the whole business (and not just the people they see everyday) both know who they are and appreciate the work they do. This is one easy way to work smart and not harder by making your employees feel connected.
Tip #6: Create & Nurture a Workforce, Not a Workplace
Starting in late March 2020, most of the world's corporate office space has lain empty as the coronavirus pandemic forced untold millions of employees to work from home. Now, it seems there may be aspects of this newfound flexibility that are here to stay.
After all, we learned that individual productivity did not plummet when employees went home. In fact, many discovered that working remotely changed the experience of work in many ways, and some for the better:
Meetings are shorter, more focused and informal (a Boston University survey of senior managers had previously reported 71% of meetings were unproductive and inefficient).
Regular breaks became more common and meals were healthier, more affordable, and unrushed.
Job satisfaction increased; pandemic stresses and fears aside, telecommuting research demonstrates a strong correlation between remote work and job satisfaction
Productivity increased, with a 2015 Stanford University study showed a 20% rise in remote-worker productivity
The talent pool widened, as geographic barriers to hiring the world's most talented candidates evaporate when onsite attendance is no longer required
The surge in remote work, at first a "necessary evil," became a siren song for what can be possible when we stop making work about the place and start making it about the people. Many businesses have found that, even as working from the office once again becomes a possibility, it makes sense to find continued ways to be flexible in order to meet their employee's needs and desires.
One effective strategy is to reconsider the modes of 'work'. What are the specific tasks or outputs that we need to create, and where is the best environment to create them? Sometimes that answer might actually be the office...but quite often, there are alternatives that might actually be better for everyone involved. Working smarter and not harder can be done from anywhere, home or office!
One major factor to keep in mind: Whether it happens in an office or a home office, work is still a social enterprise, where human connection and support is critical to our motivation and performance. Don't let remote work leave your employees feeling isolated and abandoned!
Tip #7: Inspire & Incentivize an Intentional Culture
Whatever the currency, you want to reward the behaviors that will grow your business. This structure will also make your workplace more competitive and help motivate your top performers to outdo each other.
Remember, every workplace is social. Birthdays, work anniversaries, monthly service awards, new business wins... there are many opportunities to reward your team, with smaller, more frequent awards. These will make your workplace happier and help retain your people while building loyalty, stability and a communal sense of family. In addition, this sense of connectedness, of celebrating the small wins, and of really seeing one another goes a long way towards creating an inspired, intentional culture. Celebrating the small wins together creates the energy for the big ones!
Good managers also know that the best reward can often be as simple as an in-the-moment thank you, or an on-the-spot fist-bump. It directly ties a specific, timely action to an instant reward. Above and beyond these informal methods, however, you can also consider adopting a more formal rewards and incentive program. This might include methods for public recognition, ways for employees to earn incentives, like travel or points, as well as opportunities for peer-to-peer recognition.
Tip #8: Promote and Recognize Ongoing Learning
Few employees yearn to go back to school, even if it is just a few hours in that conference room. But training, skills upgrading and professional development are critical for both employee and company. You can be a powerful part of giving your employees the tools to always be learning and growing in their leadership and career paths.
You've spent months attracting, interviewing and negotiating. You've hired the most talented people you can find. And now that they are here, they'll look to you to help them grow and stay current and stay motivated. Training and personal development go hand in hand with a strategic employee engagement program, and employers can definitely offer incentives for employees to pursue additional training.
The Society for Human Resource Management does recommend that you only reward training that increases the productive value of the employee for the company. For example, there's no need to offer rewards for completing an orientation course, but you should reward a salesperson for sharpening their customer prospecting skills.Purposeful training with positive outcomes can have a strong impact on an employee's motivation to keep on growing.
Tip #9: Invite Your Employees, Clients, & Community into a Sustainable Business Model
As you build purpose and sustainability into your business model, you can invite not only employees, but also clients and your community to be part of the effort. At CarltonOne, we believe we have the global capability to make a significant impact. Working smarter not harder to save the planet too! As a result, our products can fund the planting of millions of trees, removing billions of pounds of CO2 from the atmosphere. We can support ecosystem conservation and species protection. We can bring hope and livelihoods for families less fortunate than ours. This is our purpose, and we invite not only our employees, but also our clients and wider community into that purpose.
Ultimately, we know we can accomplish this by making work mean more. More than the projects, meetings, deadlines or money that tend to consume our thoughts on what work means. By offering easier recognition, greater rewards, healthy wellness, family savings, and simple climate action — we make our members happier and companies stronger.
These are not simply donations or corporate goodwill. These are intentional, sustainable and strategic actions that support our fundamental concern about impending climate change. We have the reach, the capability, the passion (and now) the business model to do something about it.
Our products make work more meaningful, and we're deeply proud of that! You can find ways to ignite and excite your people around your purpose as well; and you can choose to add sustainability to that purpose in a meaningful way.
Tip #10: Wellbeing is an Essential Part of Making Work Mean More
In order to truly make work mean more, it's essential that your employees feel they are fully seen and supported. Diversity, Equity, and Inclusion initiatives are a major part of ensuring that this level of holistic wellbeing is occurring in your workplace.These critical initiatives can build a confident, empowering space where fresh perspectives can bring breakthroughs.
At CarltonOne, we believe companies can inspire their employees to help change the world. That includes ensuring that diversity, equity, and inclusion measures are prominently highlighted; it is essential that any organization provides communication, training, and support to truly create a workplace where work can mean more for everyone.
The ROI of Making Work Mean More
A study of 50,000 purpose-driven companies found that they outperformed the S&P by 400% over 10 years.
Employees who feel their work is more than just a job were 4x more likely to work harder, 11x more loyal to their employer and 14x more likely to look forward to coming to work. Productivity increases of up to 225% were reported of employees that were inspired by the purpose of their employer. These positive results expand beyond our workforce, as all stakeholders — our partners, vendors and customers — will benefit from our pursuit of positive eco-action.
Ready to make work mean more?
Building a purpose-driven company, and a new growth trajectory, starts by making your business more meaningful. Productivity, performance and profit rewards flow by transforming how your employees, partners and customers are engaged. Connect with us today to learn more about how to get started in your organization.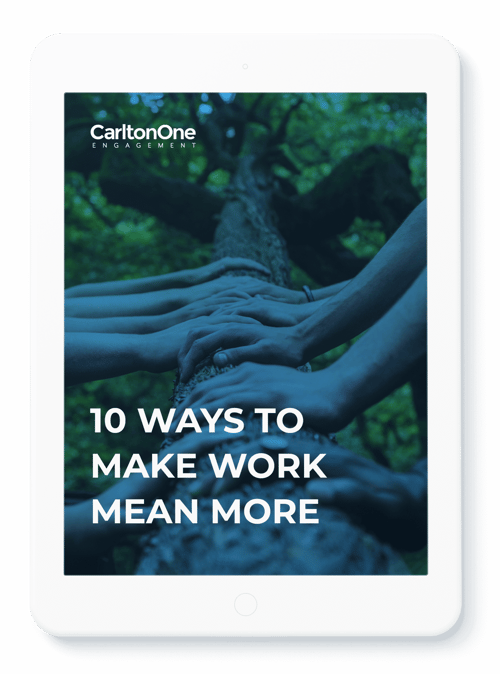 10 Powerful Ways To Make Work Mean More
Ready to give current and prospective employees more reasons than ever to commit to you for the long term? Save a copy of your complimentary guide to making work mean more.